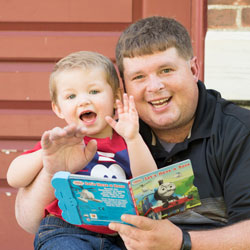 "I love the peace of mind that comes with living here. I feel safe, secure. I don't have to worry about being cold in the winter, because heat is included. More than anything, I feel respected. I know that if times get tough, the staff at the Housing Trust will work with me until I get back on my feet."
The Housing Trust of Rutland County provides housing that is affordable to residents of Rutland County, Vermont so they can choose to stay, play, live, work, and retire here. We offer affordable rentals (subsidized, senior housing, reduced rents) and mobile home lots in several communities within the greater Rutland Region.
The Housing Trust is a 501(c)(3) non-profit corporation that develops and manages rental housing using the community land trust (perpetual affordability) model under the leadership of a local board of directors. A highly trained, professional staff is based in Downtown Rutland and provides full service property management and maintenance including 24/7 emergency response.
The Housing Trust is very much a grass roots organization, providing much of its outstanding service through partnerships with local businesses, proudly paying its property taxes and other municipal charges, and responding to neighborhood concerns and community needs.