Together, we're moving Rutland County forward.
What we do
For over 25 years, The Housing Trust of Rutland County has been moving people into quality housing solutions throughout our community.  From young families starting out, to single parents finding their footing, to seniors ready to downsize, to individuals with special needs who are striving for independence, we believe everyone deserves a safe, affordable, attractive place to call home.  Here's how we keep things moving forward:
We Develop New Housing Opportunities
The Housing Trust creates high quality, attractive and safe rental housing in the population centers within Rutland County. We seek sites and buildings that will not likely be redeveloped by others, and will have a strong positive impact in a neighborhood. Many of our properties are restored or redeveloped historic buildings. In our first 25 years, we have built or renovated 46 buildings and 3 mobile home parks, and now provide affordable housing to more than 500 people annually in over 300 units throughout Rutland County.
We Manage Rental Housing
The Housing Trust manages the properties we develop with care and attention second to none.  We have a mission-based approach to management, with the hope that residents will consider their residence their home, stay in their homes for the long term, care for the property, and experience a greater quality of life.
We Work with Mobile Home Parks
In addition to rental housing, the Housing Trust purchases, upgrades and manages mobile home parks . Mobile homes are an important homeownership option to many lower or fixed-income Vermonters. The Housing Trust owns parks and leases the lots to mobile home owners.
We Collaborate with Communities and Local Agencies
Under the leadership of Executive Director Elisabeth Kulas, the Housing Trust has been recognized and lauded for promoting smart growth, innovative solutions, energy efficiency, renewable energy and strong communities. We often collaborate with other non-profit services agencies to provide guidance, information, expertise, and solutions.
VISION
Housing you can trust, afford, and call home – the foundation for vibrant communities.
MISSION
We transform buildings and land into quality housing and more, and develop relationships to cultivate communities that thrive.
VALUES
Housing first:
a place to call home
Lead by example:
be the positive change
Respect, include, and listen:
uphold dignity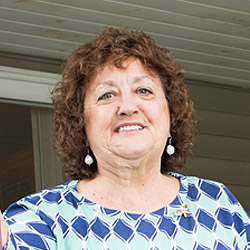 "I love the fact that I have my own home in a quiet, serene setting, and yet within five minutes I can access my doctor's office, dentist, shopping, as well as my community and social commitments. Since moving I've become involved in a number of community organizations, including becoming a board member with The Housing Trust."
Donnaleen Farwell
Resident
Communities Served
Benson, Brandon, Castleton, Chittenden, Clarendon, Danby, Fair Haven, Hubbardton, Ira, Killington, Ludlow , Mendon, Middletown Springs, Mount Holly, Mount Tabor, Pawlet, Pittsfield, Pittsford, Poultney, Proctor, Sudbury, Rutland Town, Rutland City, Shrewsbury, Wallingford, Wells, West Haven, and West Rutland